Ferry Corsten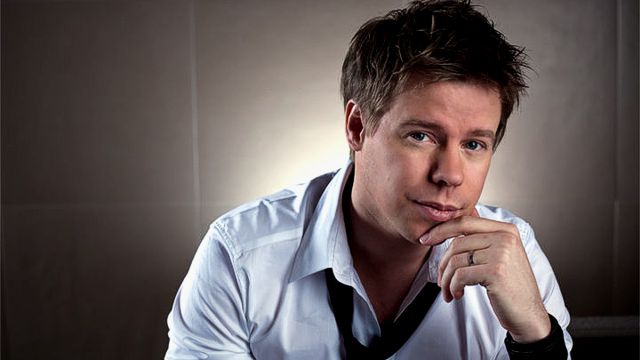 Der Rotterdamer DJ, Produzent und Labelbetreiber Ferry Corsten gilt als einer der Pioniere der niederländischen Tranceszene und Wegbereiter in der Blütezeit des Dutch Trance Sounds. Seine Produktionen "Out of the Blue" (als System F) und "Gouryella" (als Gouryella) - um nur diese zwei zu nennen - werden unisono als Meilensteine der Trancemusik bezeichnet. Gleiches gilt für seine Remixe für Künstler wie William Orbit ("Barber's Adagio for Strings"), Moby ("Why does my heart feel so bad") oder U2 ("New Years Day"). Seit 2007 ist er mit seiner wöchentlichen Radioshow Corsten's Countdown auf Sendung und betreibt mit Flashover Recordings darüber hinaus noch ein eigenes Label.
Biographie
Ferry Corsten wurde am 4. Dezember 1973 in Rotterdam (Niederlande) geboren. Seit 2002 ist er verheiratet mit Lia Colayco Corsten, gemeinsam haben sie zwei Kinder (Gabriella & Seb).
288 Kommentare & Meinungen:
Veröffentlichungen von Ferry Corsten
Kommende Veranstaltungen mit Ferry Corsten
Es sind keine kommenden Veranstaltungen mit Ferry Corsten in der Datenbank verzeichnet.
Vergangene Veranstaltungen mit Ferry Corsten
29. Oktober 2016
Transmission 2016: The Lost Oracle
@ O2 Arena, Prag
27. März 2016
Technoclub pres. Ferry Corsten
@ moon13, Frankfurt (Main)
23. Mai 2015
Trance Nation pres. Global Family
@ Heineken Music Hall, Amsterdam
15. Februar 2014
A State of Trance #650: New Horizons @ Jaarbeurs, Utrecht
@ Jaarbeurs, Utrecht
18. Oktober 2013
Ferry Corsten pres.: Full On & Pure Trance
@ Panama, Amsterdam
12. August 2012
Ferry Corsten on the beach
@ Beachclub Fuel, Bloemendaal aan Zee
03. August 2012
Nature One 2012: You. Are. Star.
@ Raketenbasis Pydna, Kastellaun / Hunsrück
30. Juni 2012
Electronic Family 2012
@ Amsterdamse Bos
31. März 2012
A State of Trance #550: Den Bosch
@ Brabanthallen, Den Bosch
17. März 2012
Godskitchen pres. Ferry Corsten vs. Markus Schulz
@ Air, Birmingham
31. Dezember 2011
Full on Ferry London
@ O2 Academy, Brixton, London
19. November 2011
Transmission 2011: Digital madness
@ O2 Arena, Prag
05. August 2011
Nature One 2011: Go wild - freak out
@ Raketenbasis Pydna, Kastellaun / Hunsrück
19. Februar 2011
Energy - We are the network
@ Jaarbeurs, Utrecht
30. Juli 2010
Nature One 2010: The flag keeps flying
@ Raketenbasis Pydna, Kastellaun / Hunsrück
23. Juli 2010
All before love
@ Delta Musikpart, Duisburg
10. April 2010
Ferry Corsten: Once upon a night - Release Party
@ Matrixx, Nijmegen
Die letzten 5 Meldungen über Ferry Corsten im Trance Blog